We are excited to announce two new enhancements to the Post to the Newsfeed feature: likes and comments. We created the Posts feature to promote and encourage the discussion about real estate deals in a focused and dedicated space (you can leave your latest find of a cool dinner spot for that other network; or the best ideas how to conduct your next interview for yet another network). With these new features, we hope to take the conversation inside OpenComps to the next level.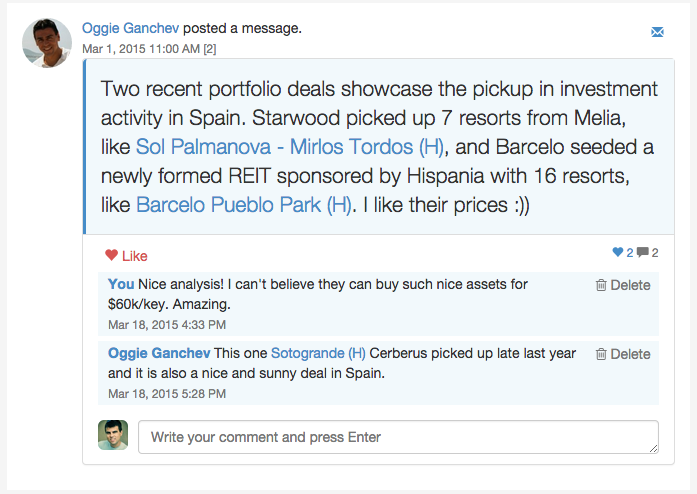 You can like any post by hitting the ♥ Like button. It will "light up" (turn red) to indicate your preference. If you change your mind, hit it again and it will "dim" (turn grey) to remove your like. You can add your comments at the bottom of the comments stream by writing your thoughts in the box and hitting Enter. Comments – just like Posts – are limited to 255 characters and can be only written as a single paragraph (remember hitting Enter will post your comment). If you change your mind about your comment, immediately or in the future, you can hit the Delete button on the right of your comment to delete it permanently.
Comments – just like Posts – have few special tricks up their sleeve:
To reference an OpenComps-recorded transaction, start with "=". For example, =123, will automatically create a link to transaction 123.
To reference another OpenComps user, start with "@". For example, @svetlin will automatically create a link to the profile for "svetlin" (my profile!).
To reference an outside internet address, make sure you include a full URL. For example, http://www.google.com will automatically create a shortened link to this internet address, which will open in a new tab/window.
On the right-hand side, underneath the post, a simple counter will show you how many likes or comments have been recorded. You can click on the like counter to see who else has liked the post.
When you are in your Newsfeed – either your Personal feed based on who you follow or the Public feed – you can always use the Actions newsfeed filter to limit your newsfeed to user posts only. This allows you to stay on top of posts and conversations uninterrupted by other Newsfeed action posts like user tagging or new on-the-market transactions.
We really hope you embrace the Post to Newsfeed feature. We would love to create commercial real estate-focused discussions that stay in a protected community. OpenComps' Newsfeed is currently only available to registered users and is not available to general crawlers like Google or Bing to expose to the world. Your OpenComps activity stays in OpenComps and won't be spread around the Internet.
If you are an active participant in the institutional commercial real estate market, we think you can find quite a few uses of the Post to Newsfeed feature, such as announcements like these:
To celebrate a recent closing and give credit:
"Congratulations to @myteammate1 and @myteammate2 on the closing of =123 sale."

To invite people on a new deal:
"XYZ Broker is very excited to exclusively market for sale =123, an unique investment opportunity to acquire prominent boutique hotel in the much sought-after area of City."

To update people on a new development on a current deal:
"We are actively conducting tours for =123. Get in touch if interested. Will call for offers on April 25th!"
We are sure you will find many other uses of this feature and will likely come up with much more creative posts than the ones above. You can actively monitor users engagement with your posts via likes and nurture an interactive dialogue via the comments.
It's no fun if your posts are not getting noticed. So, make sure you promote your activity on OpenComps by spreading the word about your profile and invite others to join. Just look for the "Invite More" link or button in the Newsfeed or Community Search and send invites to your colleagues and friends to join OpenComps.
We welcome your comments… this time on our related post in the Newsfeed! 🙂