Since 2016, OpenComps has offered users the ability to save private entries alongside the public entries that we generate via our on-going research. Our goal was to transform our service from just a research source to a productivity source for organizing your own internal market data and easily share that across your team.
The idea was simple: we will never see and hear of all the transactions in the marketplace in the fullest detail. When you record private – only me or workgroup – entries, you can augment our data or create a central repository for information that flows through your organization. From recording private Comps for sales we have missed; or private For Sale markers to track what you see being offered in the marketplace; or starting private Financials markers to record P&L information on competitive properties; or keep track of new Developments. These are all great uses of private entries.
But… sometimes you don't want to record (and maintain) a whole new (private) entry because our public entry is good enough. However, it may be missing just a small bit of additional (private) information. This is why, we are introducing private notes.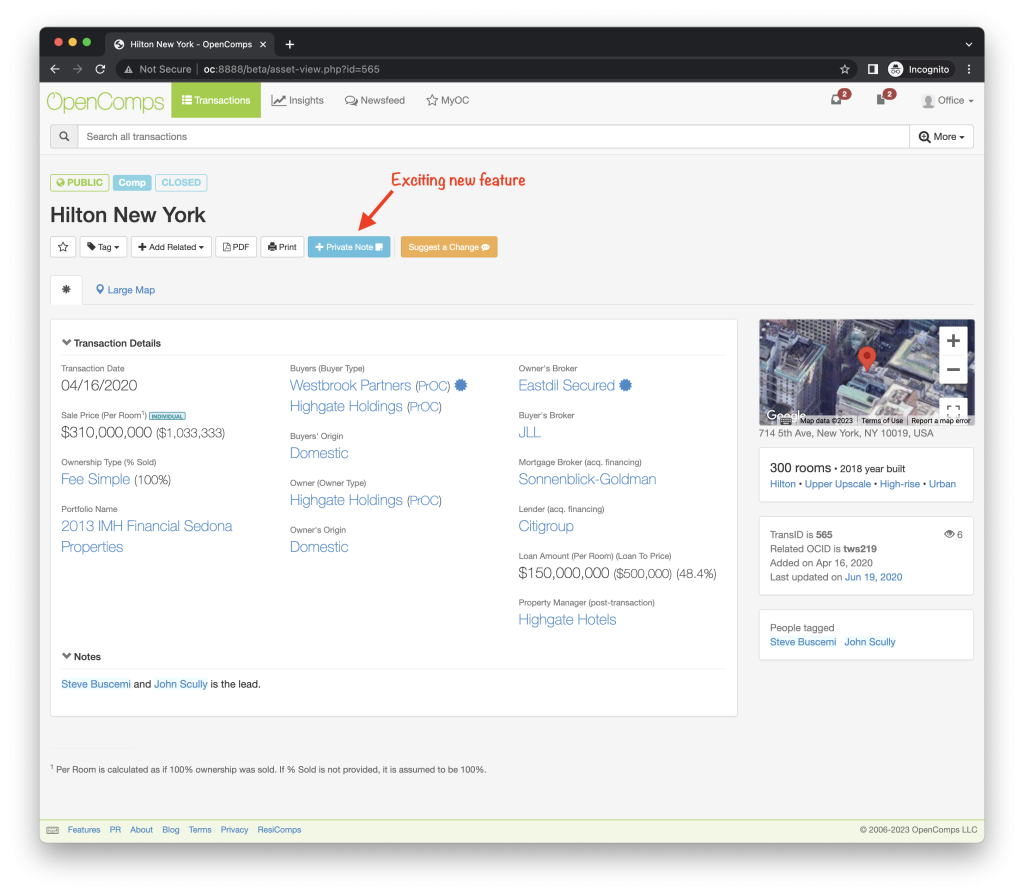 With private notes, you can quickly add an 'only me' or 'workgroup' short private note that is visible only to your designated group. They stay on top of the transaction screen and help you gain – and share across your team – additional insight that we might have missed.
You can add private notes on public transaction entries or even private (although with private entries, you should simply edit the entry, right?).
Starting a private note is easy: simply use the +Private Note button in the action toolbar. You can edit your note after saving it or delete it altogether. (Workgroup private notes can only be edited by their creators, although anyone in the group can delete any note – private workgroup entries are after all yours to maintain and organize however your group sees fit.)
We would love to hear your thoughts on private notes and any other ideas for new features.