Since we are done with the wrap up for 2013 (here and here), we want to start charting the future of OpenComps for 2014. We have a few ideas on where we want to take our service next. We really hope you'll like them and continue to follow us on this journey. We are always open to new ideas, so don't be shy to get in touch.
As we mentioned in our introduction of the Tools section, we have always been about more than just following completed transactions. We really want to be the technological platform for cracking the institutional real estate marketplace open, transparent and functioning fluidly. So, in addition to helping people assess a market by searching for comps, we also want to help them with finding out what's For Sale or who is Seeking Debt or Seeking Equity. All in our trademark no-fuss OpenComps style – blazing fast search, intuitive controls, "nothing but the meat," instant statistics and customized data sets.
Today, we would like to officially introduce our new service: Listings. OpenComps PRO subscribers can post unlimited For Sale, Seeking Debt or Seeking Equity listings on OpenComps, while registered OpenComps users – for free – can view and search them. Just hit the "+ Add New" button and select your listing type.
Here is what we hope the future screens of OpenComps will look like filled with real transactions: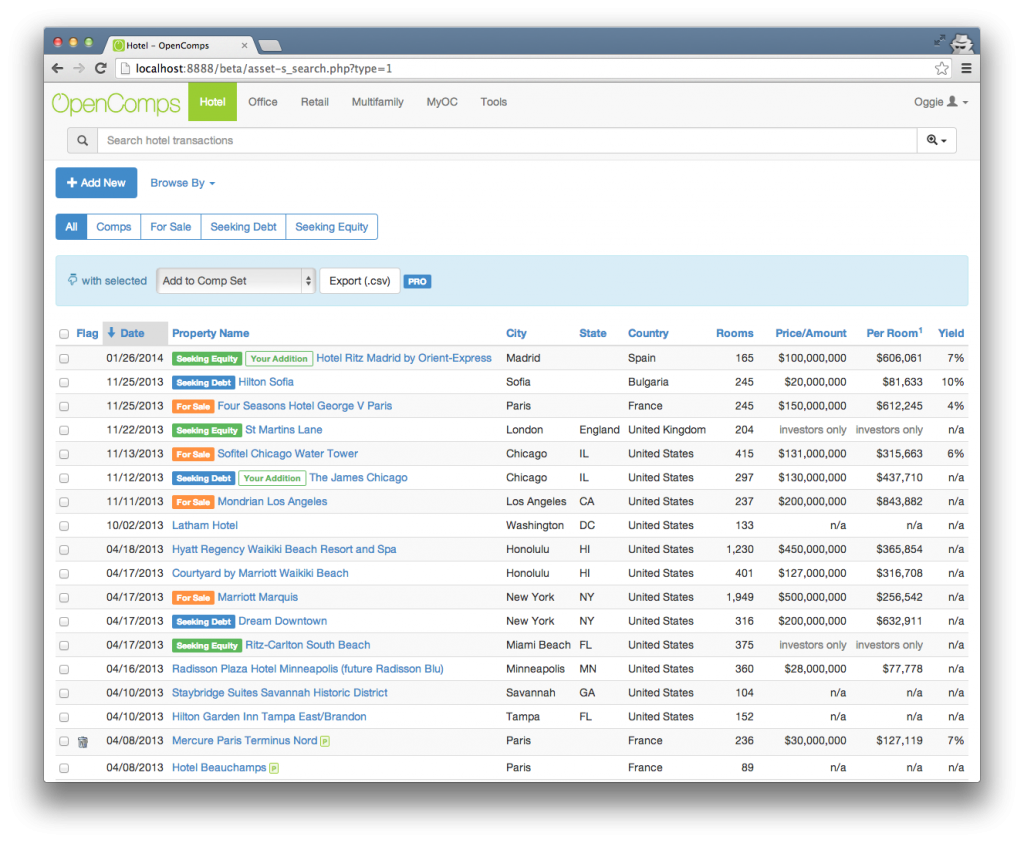 Notice the clearly labeled For Sale, Seeking Debt and Seeking Equity transactions. The no-label transactions are the good, old Comps. Notice also the transactions labeled "Your Additions", which clearly show what you entered, always available for you to view in full and edit/update. You can also, of course, use the transaction view switch to alternate between seeing only Comps, For Sale, Seeking Debt or Seeking Equity transactions. See examples below:
As you saw above, we have a twist on the usual For Sale listing services by also adding the Seeking Debt and Seeking Equity marketplaces with User Pre-Qualification. Let us explain:
For Sale listings are available in full detail to all registered users (free Basic users and Subscribers)
Seeking Debt listings are available in limited detail to all registered users, and in full detail to those users qualified as Lenders
Seeking Equity listings are available in limited detail to all registered users, and in full detail to those qualified as Investors
any registered user can request to be qualified as a Lender or Investor (just go in your Profile and see the Pre-Qualification panel). OpenComps makes a decision on all requests.
Limited detail means that, if you are not a Lender or Investor (depending on the listing type), you will not be able to see the:

exact street address of the property,
amount sought,
yield offered,
owner(s) of the property,
detailed Description of the listing; or
Internet Links associated with the listing.
We think Seeking Debt and Seeking Equity can be very useful for people looking to expose their listings "publicly" while maintaining a good level of control over sensitive details which should really be seen only by qualified Lenders or Investors. For brokers, it also means that other brokers can't just strip your listing and use it without your permission.
Here are some details on how exactly Listings work:
Listings can only be entered as of the current date
Listings are automatically set with an Active status
You can choose to change the listing status to In Contract, Closed or Delisted.
If you set a listing's status to Closed or Delisted, the listing becomes "set" – it can no longer be edited, but will continue to be visible in OpenComps as part of the permanent record for that property.
Listings status can alternate between Active and In Contract.
Who should use Listings? Naturally we hope brokers will adopt the system in their search of qualified buyers, investors or lenders. But, of course, the system can also be used by owners directly. And with our new implementation of Local Amount and over 100+ currencies, you can list your property not only if it is in Paris, Texas, but also in Paris, France.
We would love to hear your feedback on what you think works and what doesn't. We are sticking to our fast and clear information presentation style without all the bells and whistles that some other services have because we believe that "less is more". We also aim to provide people with a basic tool to find what's happening in the market, but direct traffic to the right places (e.g. use the Internet Links input area to direct people to your website, property website, due diligence room; or use the Description input area to direct people how to get in touch with you.)
We are committed to continue to roll out new updates to the Listing service. For example, we already received an idea to implement a View History for Listings, so you can monitor who saw your listing and follow up with them either through the system or directly. Coming soon! We also would like to see a more extensive user profile system and direct messaging system. Any other ideas or questions?
We are hopeful that with these new services we have created yet another value proposition to all PRO Subscribers (and all users) so that everyone may consider maintaining their own individual account with OpenComps. Not to mention that you can now bill clients for the service as you are using OpenComps not only as a research tool but as a marketing platform, too.
We would like to invite you to post your current active listings on the site in your search for the best buyer, lender or investor. You never know but she/he could be browsing OpenComps too!