Continuing with the 2013 wrap up, let's take a look at the year's most active sell-side brokerage firms. As we pointed out in our year-end review, last year was a super active year. That means there were plenty of happy faces at the nation's top brokerage firms.
For brevity we only look at the top 5 firms, which – let's be honest – is somewhat boring as a handful of firms have a firm hold of the top five rankings. You should really go to the up-to-date hotel, office, retail and multifamily rankings to look at the full list and to apply various filters to see who is active in what segment or geographic area. This could be a great tool to find the right firm to bring your property to market.
Here is the summary chart and below we provide some quick commentary: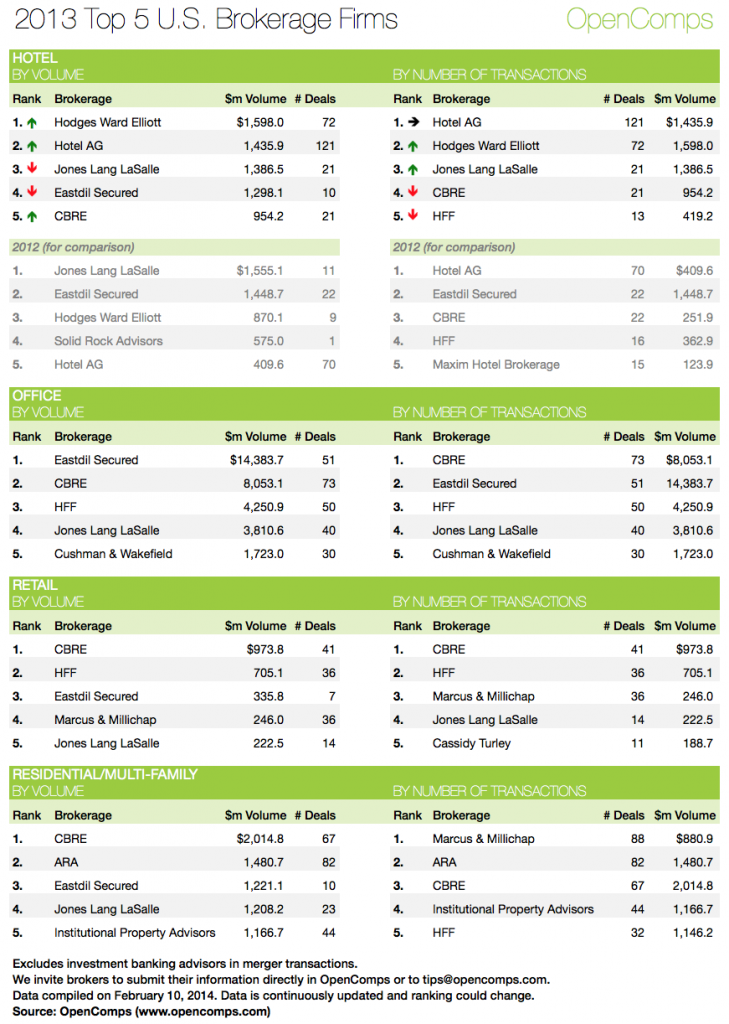 Hotel
In 2013, Hodges Ward Elliot and Hotel Asset Group (Hotel AG) catapulted themselves over their rivals at Jones Lang LaSalle and Eastdil Secured largely on the wings of the credit they get for pulling off Blackstone's $1.15 billion acquisition of Apple REIT Six (see also this). We are sure getting that 66-property deal done was not an easy task; it took almost 8 months between initial announcement and final closing press releases!
Hotel AG continues to be the most active hotel brokerage in the U.S. based on number of transactions. Yes, big chunk was the aforementioned portfolio, but with 121 properties traded, Hotel AG was closing on a property on average every third day in 2013. These guys know how to transact fast.
While Jones Lang LaSalle takes third place in our 2013 ranking of top U.S. firms with 21 transactions worth almost $1.4 billion, the true picture of the firm's power is in its international reach. The firm is a real global powerhouse with 40 transactions and almost $3.8 billion in global transactions, easily doubling over its' competitors.
Office
The Office Top 5 brokerage firms are pretty much the same any way you slice them – by volume or by transactions. However, while CBRE was able to score a good deal more transactions over Eastdil Secured (73 vs. 51), Eastdil did 1.8x times the dollar volume ($14.4 billion vs $8.0 billion) simply by getting more $1bn+ deals (5) than CBRE (only 2). We are sure that the dollar volume difference is probably not as big because of CBRE's much larger national coverage. Unfortunately, a lot of CBRE's mid-size and smaller deals do not report their pricing information.
Retail
In the retail sector, we finally see the emergence of another national powerhouse, which seems to get a lot more coverage in retail and multifamily: Marcus & Millichap. CBRE, however, still holds the top spot in both volume and number of transactions. And HFF, which in addition to its strong Office ranking is a solid second place in Retail ranking too.
Multifamily
We already mentioned in our 2013 overview, how happy we are with our much increased coverage of this sector. We find it very exciting and are happy to see the large coverage of brokered deals. CBRE takes the top spot in volume with $2.0 billion in 67 transactions. Marcus & Millichap was the busiest, however, with 88 transactions, but only $881 million in volume. ARA which came second in both volume and number of transaction is the real gem here, as it has a good hold of the mid-market by doing lots of deals in the $20-60 million.
As always, the data is dynamic and subject to change. It is also open for your participation, so come on in and contribute. There are a lot of deals without pricing information. We are sure the above rankings will look quite differently, if all deals had their full information. And, if you are a broker, what better way to get the credit you deserve: consider contributing your transactions directly to OpenComps at the same time as you think about disseminating your deal press release.