From early on in OpenComps' development we strived to create a way to display our site's activity in some kind of a browse-able stream. Somewhere where you can easily see what was recently entered and what has changed as well as discuss it. We think we finally nailed it in what are calling the Newsfeed.
It is more than a renaming and reformatting of our Posts section. Newsfeed is now truly a place where you can see a stream of the latest transaction entries, transaction updates (these are updates on existing transactions; more on these below) and community updates by users. Each post is encapsulated so you can like it and comment on it, if you wish (hope you will!).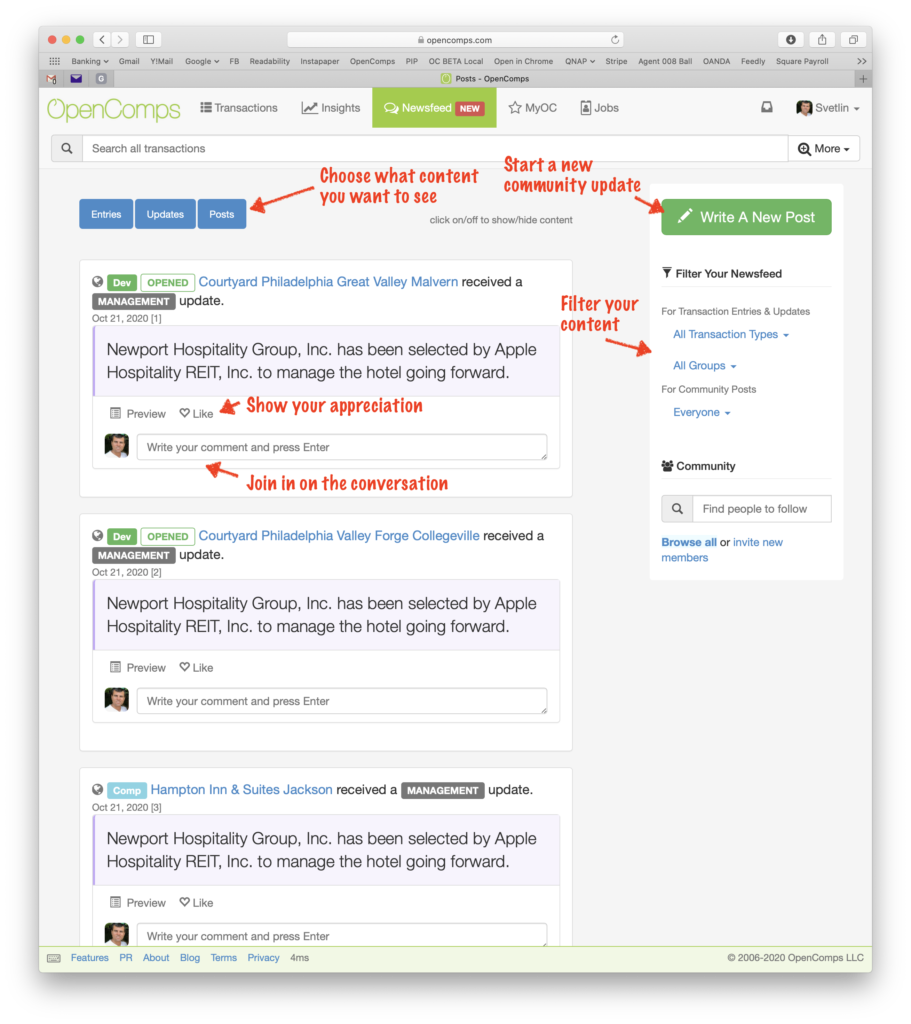 You can choose what content your Newsfeed is showing by turning on or off the big blue buttons on the very top of the Newsfeed.
Entries – show/hide the latest transaction entries;
Update – show/hide the latest updates to existing transaction (see more below);
Posts – show/hide the latest community updates shared by OpenComps users.
You can further filter what you see on your Newsfeed by using the Filter Your Newsfeed section on the right side of newsfeed.
For Transaction Entries & Updates – you can choose to filter by Transaction Type (e.g. Comp, For Sale, etc.) or transaction visibility or Group (Public, Private/Only me or Private/Workgroup).
For Transaction Updates – if you select a Transaction Type filter (e.g. Comp, For Sale, etc.), you will be able to choose what type of a transaction update you want to see. Each transaction type has a different set of applicable update labels and, so, this list changes based on your transaction type selection.

For example, to see which Comp (sold) or Debt Comps transactions that may be experiencing Debt Trouble, you can select Comp (or Debt Comp) in the Transaction Type filter and then select Debt Trouble in the Transaction Update Type filter.
Another example would be if you are looking for which For Sale transactions are Call(ing) For Offers.
Don't forget that if you are focusing on Updates, you likely want to

turn off

the Entries and Posts content, so you can really focus on the transaction updates!

For Community Updates – you can choose to view only community updates from users you have decided to follow or just your updates (which you can also see in your Profile!).
Transaction Updates
The redesigned Newsfeed is also bringing to light a new feature that we had built over the past few months and we were running in shadow mode – Transaction Updates. We had always updated transactions over time as new information was received about a property – new manager was appointed, renovation was started or the property was renamed. We also actively followed the progress of new developments. All these were neatly recorded in the Notes section of each transaction entry. And they will continue to be – highlighting as much detail as we can acquire and tagging more people that may be involved in the transaction. However, it was hard to know when an older transaction entry received an update.
That is why we built a new system to track these updates so we can more easily surface them to you, our users, in the Newsfeed and soon in our newsletters as current news. As detailed above, you can now easily see Debt Trouble in Comps or Debt Comps, or Management changes in Comps, Devs or Debt Comps, by using the Newsfeed filters.
While most of these transaction updates are OpenComps' research driven, we will soon enable this feature for our broker users who create and maintain their own For Sale transaction entries. This would be a great way to move the transaction through property tours, additional due diligence availability and/or calls for offers.
We hope you enjoy our new Newsfeed, the new transaction updates and we look forward to your likes and comments on the entries, updates or community posts you see. The Newsfeed is best experienced as a PRO subscriber, so we hope you will consider starting a subscription.