We got busy with new features over the past few months, as you can see from our stream of updates here and here and here, that we got really delayed on our first quarter review. Well, there were no earth-shattering news: the market's good times continue unabated. Which is nice, isn't it? We certainly like it. Let's take a look at the activity in the four sectors we cover.
Hotel
In Hotels, for the Q1'2014, as of May 30th, 2014, we recorded 185 transactions worldwide and 133 in the U.S. That compares to 200 and 133 for Q1'2013, respectively. That's a -8% decrease and stable in number of transactions, respectively. But don't get too worried. While, the number of transactions decreased ever so slightly, the volume in the U.S. jumped from $4.9 billion in Q1'2013 to $6.8 billion in Q1'2014 – a 37% increase – which we believe better shows the continued appetite for hotel properties. Money are still pouring in.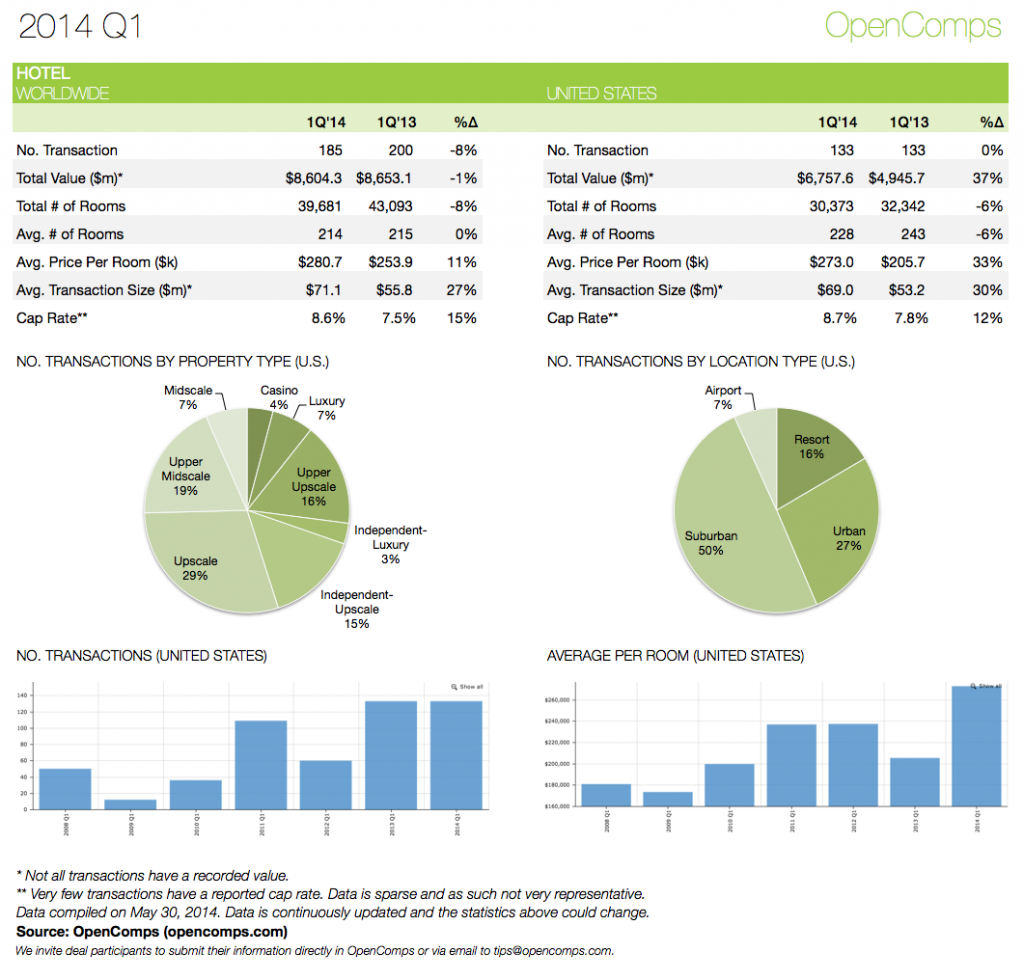 In the United States, among the single-asset transactions, of note are Standard International's $400 million or almost $1.2 million per room acquisition of The Standard High Line, Clearview Hotel Capital and Oaktree Capital Management's $303.4 million acquisition of Philadelphia Marriott Downtown, and Qatar's sovereign wealth fund Constellation Hotels Holding Limited entering a joint venture for the InterContinental New York Barclay valuing the hotel at $3000 million prior to a planned $175 million renovation.
On the domestic portfolio front, the highlights were RLJ Lodging Trust's acquisition of 10 limited-service Hyatt hotels from Hyatt Hotels Corporation for $313 million, Noble Investment Group's acquisition of four Residence Inns in Ohio for $53.5 million from Moreland Management Company, and Sage Hospitality together with the private equity firm Whitman Peterson's acquisition of 11 mostly Marriott-branded hotels from RLJ Lodging Trust for $85 million.
Internationally, there were plenty of significant single-property transactions like Blackstone selling the Trianon Palace Versailles, A Waldorf Astoria Hotel to Financière Immobilière Bordelaise for EUR 140 million (~$192 million), John Malone's purchase of the Hilton Dublin for EUR 30 million (~$41.5 million) or Millennium & Copthorne Hotels purchase of the Boscolo Palace Roma for EUR 65.6 million (~$89 million), but the spotlight was really on portfolio acquisitions. Starwood Capital Group snapped two significant portfolios: the 23-hotel De Vere portfolio and 6-hotel Four Pillars portfolio both in the United Kingdom. If you have info on these, we would love to hear from you. Also of note, Invesco Real Estate acquiring a portfolio of four mid-market InterCityHotels across Germany for €80 million (US$110 million) from Steigenberger Hotels.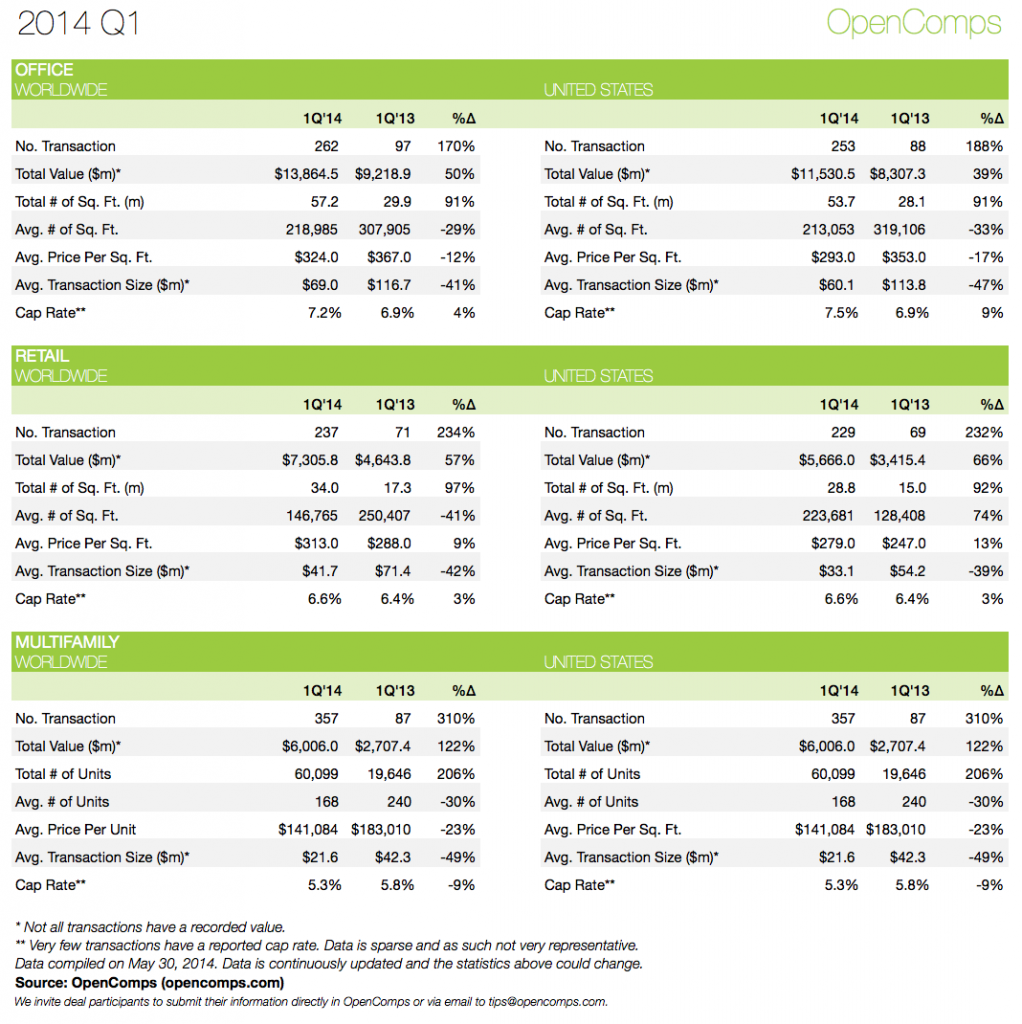 We are happy to start presenting current quarter vs prior year quarter comparison for Office, Retail and Multifamily. We were not doing comparison previously because prior to 2012 our coverage of these asset types was not significant. We thought we did a very good job expanding our coverage of these asset types in 2013. Yet the significant increases in the first quarter of 2014 from the first quarter of 2013 show that we are doing even better job in 2014. Our number of transactions is up significantly, while the average transaction size has gone down and the average number of square feet or units per property have gone down. This means that we have significantly expanded our coverage universe beyond the mega-deals that happen in those sectors (while certainly not missing any of these).
Office
In Office, in the first quarter, we recorded 262 transactions worldwide for a total of $13.9 billion vs. 253 transactions in the United States for $11.5 billion. Domestic Office sales of note include Related Companies joint venture with Singapore's GIC Real Estate and Abu Dhabi Investment Authority to purchase One Time Warner Center in New York for $1.3 billion from Time Warner Inc., Hines REIT purchase of the Howard Hughes Center in Los Angeles from Blackstone Group for $510.7 million and MetLife and Norway's Norges Bank Investment Management's purchase of the Thurman Arnold Building in Washington, D.C., for $505 million from Manulife Financial.
Retail
In Retail, in the first quarter of 2014, we recorded 237 transactions worldwide for a total of $7.3 billion vs. 71 transactions and $4.6 billion in first quarter of 2013. Transactions of note include TIAA-CREF and APG's purchase of 49.9% interest in the International Plaza and Bay Street in Tampa, FL, for $499 million from Taubman Centers, Pennsylvania REIT's $465 million purchase of Springfield Town Center in Springfield, VA, from Franconia Two, LP and Vornado Realty Trust, and Vornado this time selling Beverly Connection in Los Angeles for $260 million to Ashkenazy Acquisition Corporation.
Multifamily
In Multifamily, in the first quarter of 2014, we recorded 357 transactions in the U.S. for a total of $6.0 billion vs. 87 transactions and $2.7 billion in first quarter of 2013. Transactions of note include O'Connor Capital Partners $250 million ($2.0 million per unit!) purchase of the 120-unit Wellington in New York, NY, from GID and CalPERS, Equity Residential's purchase of the 430-unit Pacific Place Apartments in Los Angeles, CA for $143 million from Nexus Properties (also covered here for Equity Residential's tight lips despite being public REIT), and the 336-unit 101 Park Place at Harbor Point trading hands for $135 million from a JV between Building and Land Technology and Lubert-Adler into Capri Capital Partners' hands.