While we were busy with our new re-design over the summer, the transactions market didn't let up either during the  "quiet" months of summer which are supposed to be filled with family vacations and BBQs. With the third quarter of 2013, here is an update on our quarterly and year-to-date statistics.
The Q3 one-word summary is: HOT. As in summer hot, but really as a hot transactions market that we are seeing at the moment. Can it get even hotter? We think so. We think we are in a cyclical upturn which hopefully has more legs to run.
In Hotels, for the Q3'2013, we recorded 187 transactions worldwide and 148 in the U.S. That compares to 113 and 98 for Q3'2012, respectively. That's a 65% and 51% increase in number of transactions, respectively. The volume in the U.S. jumped from $3.1 billion in Q3'2012 to $5.5 billion in Q3'2013.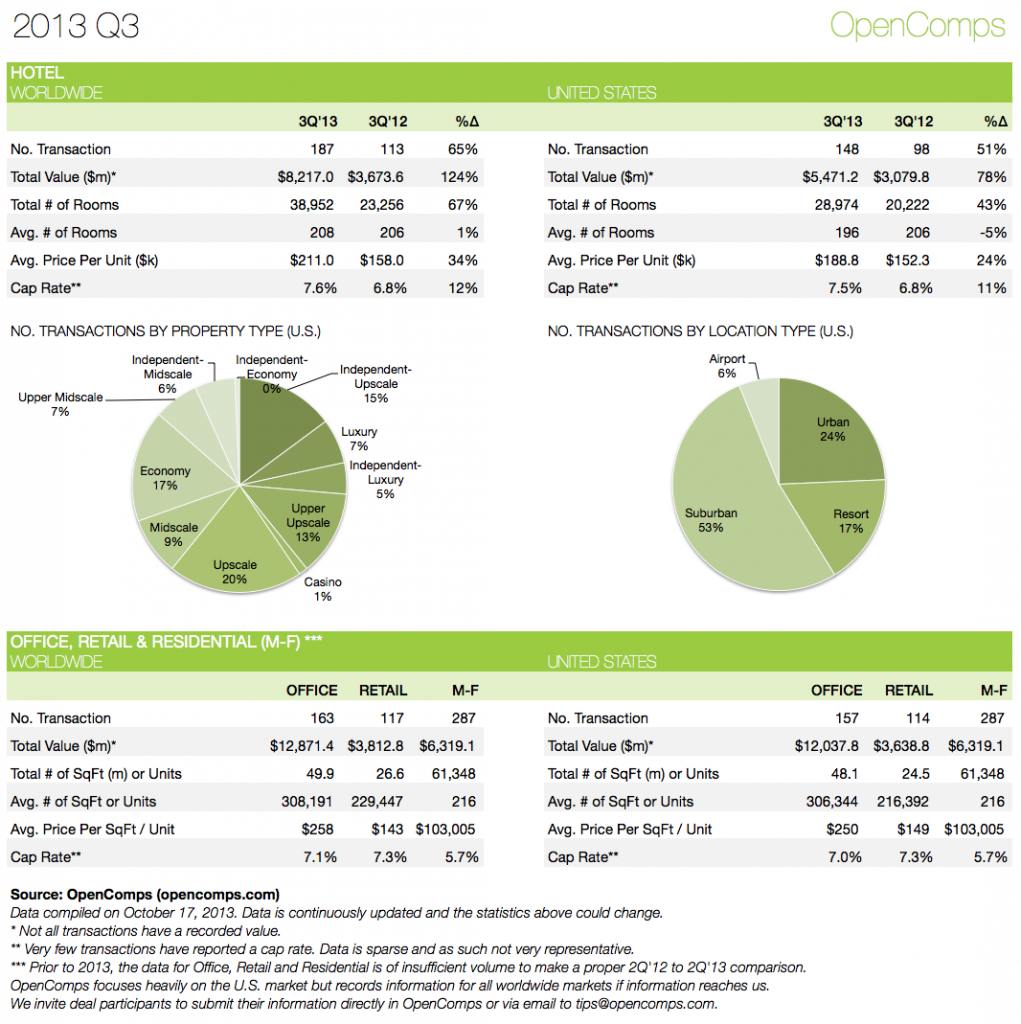 In the United States, among the single-asset transactions, of note are Hyatt Hotels Corporation's $717 million acquisition of The Peabody Orlando (future Hyatt Regency Orlando Convention Center), Witkoff Group's $650 million acquisition of The Helmsley Park Lane (for likely residential conversion), Sunstone Hotel Properties purchase of Boston Park Plaza for $250 million, and Thayer Lodging's purchase of The Ritz-Carlton San Francisco for $161 million.
With some single buys and some deuces, Inland American Real Estate Trust Inc.'s activity in Q3'2013 is also very interesting. The non-traded REIT spent $428 million over the quarter acquiring the likes of Hyatt Regency Santa Clara, Andaz Napa and Andaz Savannah, and two Westins in Houston.
On the domestic portfolio front, the two highlights were Blackstone Group's acquisition of 16 limited-service hotels from Hersha Hospitality Group for $217 million and Value Place's acquisition of its largest franchisee's collection of 22 hotels across the United States for $115 million. The properties were acquired from a joint venture of Angelo, Gordon & Co. and Belvedere Capital Real Estate Partners.
Internationally, Bright Ruby Resources' purchase of the Grand Park Orchard for $909 million is a doozy. The just shy of a billion purchase price made this close to $3.0 million for each of the 308 rooms of the hotel.  The Abu Dhabi Investment Authority kept busy globally: one one side purchasing Tourism Asset Holdings Limited's entire 31-hotel Australian portfolio for AUD$800 million (we tracked only 12 of those properties, so if you know more, please contribute or send us a note), while on another side negotiating with Marriott International on three under-construction or about to open EDITION hotels in London, New York and Miami Beach for $800 million. Another group not unfamiliar with large numbers is Blackstone Group, who disposed of 10-hotel portfolio in Germany for $800 million transaction ($60 million euros). The former Deutsche Interhotel portfolio was picked up by a partnership of Brookfield Asset Management Inc., Starwood Capital Group LLC and iStar Financial Inc. who stepped up from their lender's position to wipe out Blackstone following a downturn in the performance in the hotels caused Blackstone to default in November last year. A rare mishit for Blackstone!
The Multifamily market is equally on fire, if not even more so. In Q3'2013, we recorded 287 transactions, 61,348 units and a total of $6.3 billion in transaction volume. All in the United States, the transactions averaged at 216 units, $103,000 per unit and 5.7% cap rate.
Transactions of note include SL Green's purchase of 333-unit The Olivia in New York City for $386 million (over $1.1 million per unit!) from Stonehedge Partners, Capri Capital and Kennedy Wilson's acquisition of 437-unit Esprit Marina del Rey, CA, for $225 million, and Acacia Capital Corp. purchase of the 400-unit Harbor Cove Apartment Homes for $138 million from Essex Property Trust. Also of note was HFZ Capital's purchase of 4 luxury New York City rental properties from Westbrook Property with 763 total units for $600 million.
In Office, in the third quarter, we recorded 163 transactions worldwide for a total of $12.9 billion vs. 157 transactions in the United States for $12.0 billion. Office sales are dominated by the big ticket Class A towers in New York, Boston, Houston, Toronto and Washington, like 1345 Avenue of the Americas (NY), Greenway Plaza (Houston), 605 Third Avenue (NY), 425 Lexington Avenue (NY), Bay Adelaide Centre East (Toronto), One Post Office Square (Boston) and Washington Harbour (Washington).
In Retail, in the third quarter, we recorded 117 transactions worldwide for a total of $3.8 billion vs. 114 transactions in the United States for $3.6 billion. We picked up on just a few transactions outside of United States: one in Italy and two in Russia. But the one in Moscow, where Hines and CalPERS joined Morgan Stanley in owning the 882,641-square-foot Metropolis Shopping and Entertainment Mall could have easily added another billion if the transaction value was reported. Of the ones that have their transaction value recorded, the biggest note goes to Starwood Capital's $1.6 billion purchase of 7 Westfield malls from Westfield Group.
To wrap up, here are the year-to-date trends: in Hotels, we have recorded 338 transactions, $10.1 billion worldwide and 287 transaction, $8.0 billion in the United States (that's up 143% worldwide and 133% in the United States by number of transactions). In Office, we recorded 184 transaction ($22.6 billion) worldwide vs. 178 transactions ($21 billion) in the United States. In Retail, worldwide we tracked 151 transactions ($8.4 billion) vs 149 transactions ($7.2 billion) in the United States. In Multifamily, we are again almost exclusively in the United States, with 328 transaction and $7.25 billion.